Yorkshire 3 Peaks Fundraising Champions!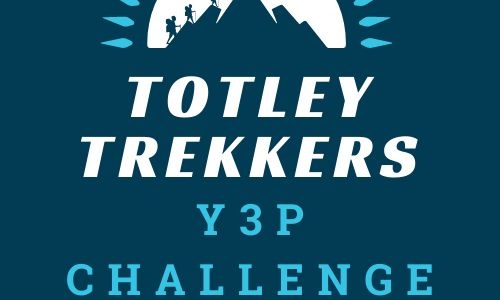 On Saturday 25th June, a dozen of Totley Primary's staff embarked on the Yorkshire 3 Peaks Challenge, with a target of raising over £3000 for Edale Mountain Rescue and Totley Primary PTA.
The idea came to Mrs Corrin, Deputy Headteacher and trekker in her own time, who was looking for an ingenious way to raise money for the charities, build on the already excellent team spirit in the staff, and at the same time engage the children in activities in the Peaks, which are so close to the school.
The Yorkshire 3 Peaks challenge is a 24 mile endurance of 3 mountains in the Yorkshire Dales National Park: Pen-y-ghent (694 metres), Whernside (736 metres) and Ingleborough (723 metres). This is no mean feat, and for some of our staff, the challenge would require a serious amount of training and preparation.
Before we knew it, we had support from Staves Estate Agents, and we were getting started with t-shirts, training, and inspiring our children! Some examples of the work we did with children in advance included a talk by Edale Mountain Rescue, a stay and play after school activities event, and sponsored walks for the children. The children have been fully involved in the whole process, and we're really proud that a group of children in Year 6 have produced a very impressive guide to walks in the Peak District, which they are selling for a donation. The book includes 6 walks in the Peaks, including accessible walks from our very own school. One parent has described the books as "a masterpiece."!
We are very proud to announce that the challenge went off without a hitch, and our intrepid trekkers completed the 24-mile trial in an impressive 10.5 hour moving time. But even more impressive, is the incredible amount our staff and pupils have raised for two very worthy charities: Edale Mountain Rescue and Totley Primary PTA.
Ben Paxman, headteacher, who was part of the trekking team said:
Completing the Y3P challenge was a hugely rewarding collective experience. It was a genuine privilege to be amongst a dozen colleagues, differing widely in age and walking experience, who supported each other to trek almost 25 very challenging miles as a group. It really embodied our school motto, 'Good Friends Stick Together'
Edale Mountain Rescue Team operates in the Peak District National Park in Derbyshire and is one of the busiest Mountain Rescue teams in the country. In 2020, they were involved in 156 incidents throughout their operational area, which covers parts of Derbyshire and South Yorkshire. The charity relies solely on donations in order to fund their vital work. We are very proud that our very own Mr Fenton is a volunteer for this amazing charity.
Totley Primary is very lucky to have an active PTA. The PTA raises money to help subsidise whole school projects and events. Recently, these have included a fantastic reading shelter, coaches to take the whole school to a Christmas panto, contributions towards the outdoor area projects, new tables for the outdoor dining area, new sports kits, leavers gifts for the Y6s, robotics equipment, Christmas presents for FS2 and KS1, and much more!
Managing Director of Staves Estate Agent, Matthew Staves said:
Staves are proud to have recently supported the Totley Trekkers in completing the grueling Yorkshire 3 Peaks challenge. Well done everyone involved for raising such a fantastic amount for such worthy causes.
So, it is with great pride we announce the total raised for these amazing charities is £4143, smashing our £3000 target!
Most people would be very content with the successes of this challenge, but not us! We are moving on to bigger and harder challenges and reveal the next trial for Totley Trekkers will be Mount Snowdon next year!