Pitch perfect at TPS!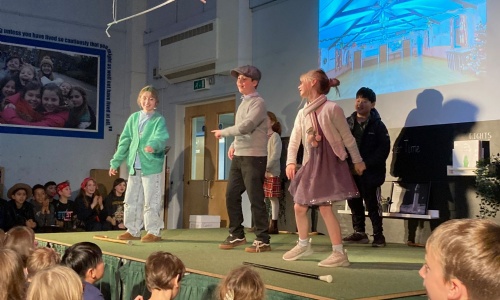 One of the hardest aspects of the pandemic for us was the restriction on children being able to sing, play certain musical instruments and perform.
We have worked extremely hard to make up lost ground on this front and have made substantial investments in resources and provision, as we recognise what a fundamental role music has to play in children's personal development and well-being. In the words of Richard E. Grant in his recent Desert Island Discs interview,
"Music is the emotional wallop or the key to understanding everything in a way that goes beyond language."
Opportunities for all children to learn how to play musical instruments are now woven into our curriculum.
Children are introduced to the elements of music (pitch, tempo, timbre, rhythm dynamics, etc) in sequence as they progress through school and their understanding is consolidated and revisited through lessons where singing, listening to and appreciating significant pieces and genres of music (such as Big Band, blues, rock and roll, reggae and hip hop, as well as classical works) are fundamental building blocks, alongside performance and composition.
In terms of instruments, the emphasis is on singing and untuned percussion initially, complemented by regular input by specialist singing teachers from the Sheffield Music Hub. Tuned percussion (chime bars for example) come into play next, and then woodwind tuition for all children in recorder then clarinet. As children move up through the juniors, they will also experience ukulele, glockenspiel and keyboard tuition as they develop their understanding of musical notation. Again, specialist teachers are brought in to support this delivery, where needed.
Alongside this, the work of trailblazing composers such as Delia Derbyshire (Dr Who theme), Brahms (inspired by his native folk music) and Steve Reich (musical minimalism) is explored and discussed in assemblies.
Extra-curricular tuition via peripatetic teachers (some of which is free of charge) also allows children to pursue their talents further should they wish.
The net result of all of these developments is a school which sings, plucks, boom whacks, chimes, plays, toe taps and grooves its way through each and every day - and it's wonderful!